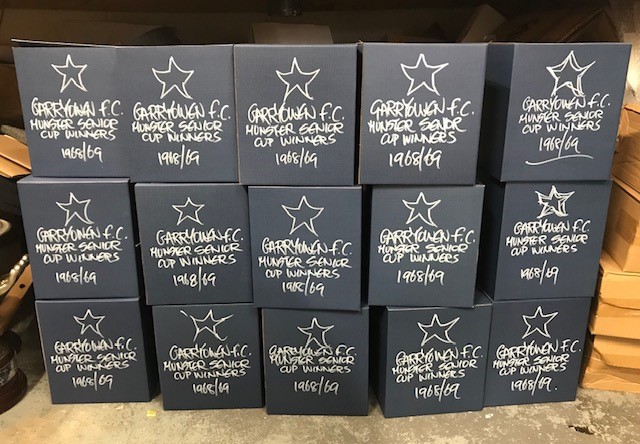 admin Apr/ 25/ 2019 | 0
Recently, we were commissioned to design a 50th Anniversary commemorative award for each team member of Garryowen FC's Munster Senior Cup winning team of 1968-1969.
We were delighted to work on this project with well known Limerick Artist Una Heaton, who drew an image of each player, team management and the Munster Senior Cup Trophy. We decided that the best way to present Una's original art-work was to engrave the images of the players on to the front of the tankard and the team management and trophy onto the back.
We were delighted that our concept was so well received. It's great to mark such a brilliant achievement 50 years with a unique and appropriate memento. The final touch was the personalised individual boxes scripted by Una.
Thanks to Garryowen FC and Una Heaton for giving us this opportunity. If you have a special event/occasion that you would like to commemorate, please contact us in store today: 061403155.